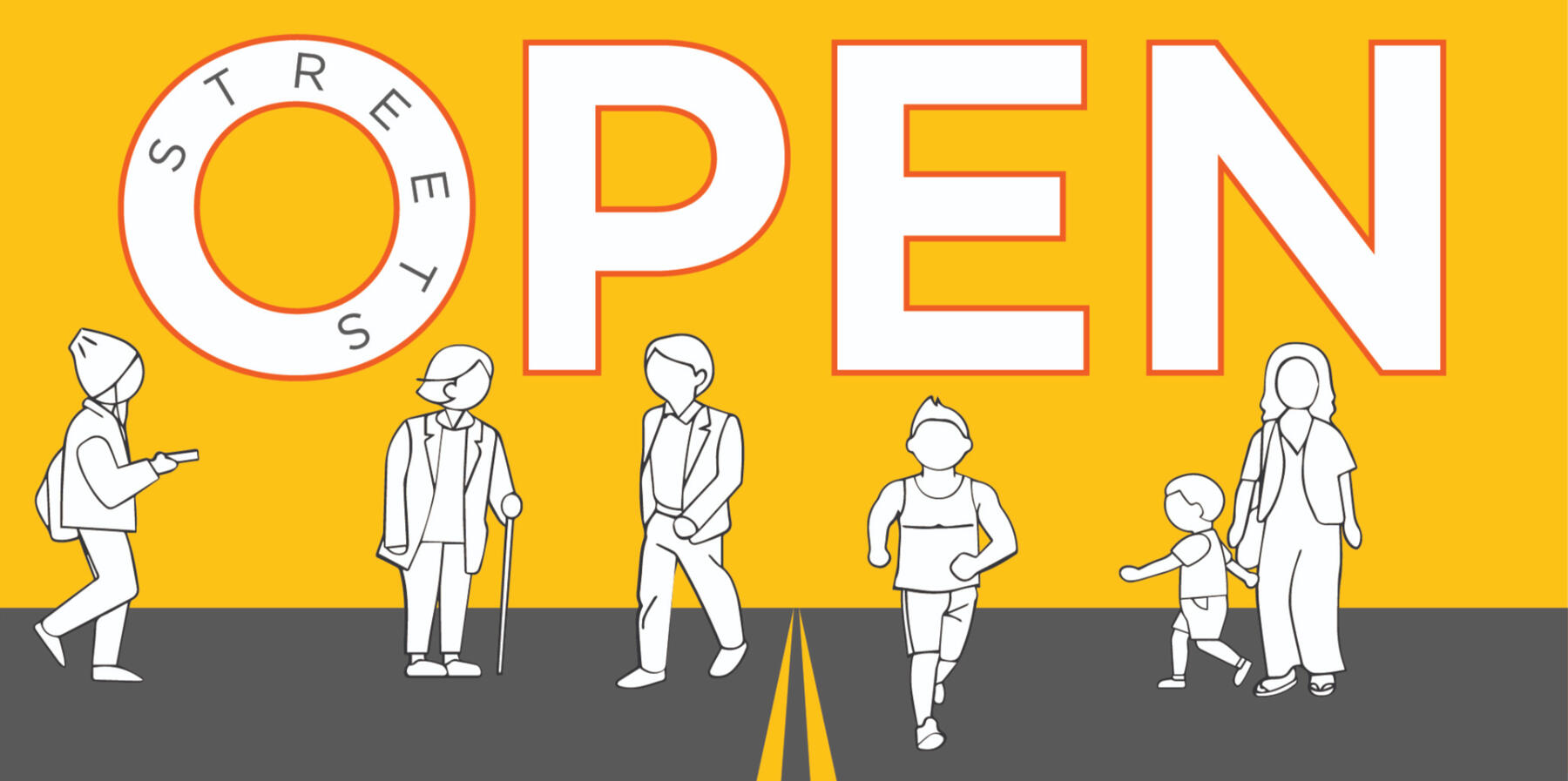 New York City Needs Permanent 24/7 Open Streets
Open Streets have become an essential part of our neighborhoods — rebuilding local businesses, connecting us to our neighbors, reduce traffic violence and air pollution, providing new open space to millions of New Yorkers, and signaling New York City's recovery.

But a new analysis from Transportation Alternatives finds that the temporary nature of the program has resulted in Open Streets that are inequitable and unsafe. It's time to make Open Streets into a permanent 24/7 car-free space.
The #OpenStreets Campaign is a project of Transportation Alternatives and Families for Safe Streets.

Read our latest report, Open Streets Forever
Learn More
The Opportunity
New York City needs a permanent, city-wide network of Open Streets that meets the needs of all communities, during COVID-19 and for the future. The initial 40 miles of Open Streets that the City began to implement in early May were a small step in the right direction. However, there is a long way to go to create a truly equitable network of Open Streets throughout the city. The actions we take to push for Open Streets now will shape New York City's future. The public health, safety, economic, and community-building benefits of Open Streets have the potential to shape our city for a generation.
In the urgent short-term, New Yorkers do not have enough space to be safe during COVID-19. Few New York City sidewalks are wide enough to accommodate the need to maintain safe physical distance. One researcher found that 74 percent of New York City sidewalks were not wide enough to pass at a safe distance. Because most frontline workers are people of color who rely on public transportation, this spatial inequality puts them at greater risk as they continue to attend their jobs.
Open Streets can help right longstanding inequity In New York City, streets and sidewalks make up 80 percent of public space, and the vast majority of that space–6,000 miles of roads and three million free parking spaces–is given over to moving and parked cars. This imbalance exclusively benefits a minority of (relatively wealthy) New Yorkers, as most households in New York City do not own a car.
Access to open space is unequally distributed In New York City, residents have less acreage of park space per capita than any major city in America. But even this inequity does not fall equally across the city. A study from the University of British Columbia found that in New York City, Asian Americans had the least access to green space, and New Yorkers with the highest post-secondary education had the most access. Another study, published in the Journal of Urban Health, dove deeper into these divides and found that the parks with the most disamenities--including crime, traffic, and noxious land use--were located in low-income neighborhoods, often negating the usefulness of those spaces for residents. Across America, the harm of traffic crashes follows patterns of inequity, and this is especially true for pedestrians--people in low-income neighborhoods and people of color are most likely to be killed while walking.
Our inaction is costly. Before the arrival of COVID-19, the inequitable balance of our streets resulted in traffic crashes that killed and injured more than 45,000 in New York City annually, and cost billions every year in emergency services and property destruction. In the era of COVID-19, with traffic on New York's busiest bridges and tunnels down 60 percent, traffic speeds have risen by as much as 288 percent, and the resulting crashes come at a high cost: a greater burden on hospitals already stretched thin by COVID-19.
In the absence of clarity, we must use caution. As federal, state, and local guidelines continue to change surrounding the cause, spread, and treatment of COVID-19, New York City must take proactive and protective measures to ensure that New Yorkers who must be out are not at increased risk of exposure due to spatial constraints, including too-narrow city sidewalks.
The Solution
Open Streets are streets with space for people to bike, to walk, to be safe from traffic, and in the era of COVID-19, to keep a safe physical distance. New York City's initial COVID-19-era Open Streets implementations have shown that New Yorkers want and need these spaces, and that aggressive and expensive enforcement is not necessary. In general, an Open Street is a length of roadway closed to cars and opened to people, while remaining accessible for essential services and emergency vehicles. As we have seen here in New York as well as in other cities, Open Streets are simple to implement, requiring only traffic cones and basic barricades.
Open Streets are flexible and unlock potential in neighborhoods. New York's pilot of an Open Streets program is far from the first. Cities around the world have been closing streets to cars and opening them to people as long as cars have been in cities. Open Streets take many forms: residential block parties, weekly market streets, even parades. Their design is flexible as well, with examples ranging from a full closure to car traffic, to a partial closure that reduces the number of car lanes, to a simple sidewalk widening. There are as many ways to implement Open Streets. They can be city-run, like a parade, or community-run, like a block party, and can be implemented on a one-time, temporary, or permanent basis.
Open Streets help reset the inequitable balance of our streets. Because there are a wide variety of ways to close streets to cars and open them to people, Open Streets can directly respond to present inequities. Open Streets can be located based on need, where the risk for COVID-19 transmission is highest due to crowded living quarters, or where accessible park space is lacking. As we move into recovery from this crisis, they can be implemented in a way that supports the revitalization of commercial corridors. Open Streets implementations do not require a police presence. When public space is not equally accessible citywide, and the policing of people in public space is often not related to crime and driven by race, this is especially important.
Open Streets help us weather a recession. Looking beyond the COVID-19 crisis, Open Streets have proven economic benefits that could help our city recover. By limiting space for cars, and providing space for walking and biking, Open Streets could save New York City some of the $4 billion spent every year in response to traffic crashes. And multiple studies have shown that opening streets for biking and walking significantly increases revenue for local businesses.
Join the Movement
Help us send a message to City Hall that we need Open Streets to be permanent, widespread, and in every community. Join the #OpenStreets Coalition as a business owner or community representative, or share your Open Streets story with us.
Join the Coalition
Transportation Alternatives is seeking community organizations and businesses to join our campaign. If you are a business owner, member of a school group, religious organization, or other community institution, and your organization believes that New Yorkers need open streets, join the #OpenStreets Coalition using the form below.
* Your organization will be listed on this website. Your name, email, and phone number are for internal use only, and will not be publicly listed.
Coalition Partners
Bronx Health REACH
St. Anns Corner for Harm Reduction
Bronxmama
The Children's Village
Kips Bay Boys & Girls Club
Eastchester Gardens Resident Association
Friends of Tremont Park
Urban Health Plan
Rocking the Boat
Padre Plaza Success Community Garden
BetaNYC
BRAKES
Friends of Cooper Park
Make Brooklyn Safer
KiDiCAL Mass NYC
North Brooklyn Neighbors
Prospect Heights Neighborhood Development Council
Respect Brooklyn
Brooklyn Greenway Initative
Redbeard Bikes
North Brooklyn Mutual Aid
North Brooklyn Stewards Initiative
@howtobebrokeinnewyork
Bedford Stuyvesant Restoration Corporation
Brooklyn Community Services
Brooklyn Crepe
Brooklyn Greenway Initiative
Downtown Brooklyn Partnership
DUMBO Improvement District
Flatbush Development Corporation
Future Green Studio
Greenpoint Renaissance Enterprise Corporation (GREC)
Jaya Yoga Center
Newtown Creek Alliance
North Brooklyn Parks Alliance
Pakistani American Youth Society
Park Slope Civic Council
Park Slope Neighbors
Priority Fitness
Sharon Street Alley Association
St. Nicks Alliance
United Neighbors Organization (UNO)
Workers Justice Project
Congress for New Urbanism, New York City Chapter
Bike New York
Hollaback!
New York League of Conservation Voters
Open Plans
play:groundNYC
Riders Alliance
Families for Safe Streets
UP-STAND Movement
5 Boro Bike Club
Acupuncture Mobile Services
ALIGN
American Heart Association
Art of Cycling
Bicycle Utopia
Brompton Bicycle Inc
Center for Active Design, Inc
CRREW: Community Relief & Rebuilding through Education & Wellness
Dr. Nick Gavin
Earth Matter NY
Gehl Studio
Go! Sports USA
Green Map System
LES Ecology Center
Mos Collective
National Congress of Neighborhood Women
New Yorkers for Parks
NY Cycle Club
NYC H20
Oonee Pod
Ovenly
Ovenly
PAU | Practice for Architecture and Urbanism
Rachel Kaplan Accupuncture
Regional Plan Association
Reimagine NYC
Reiss+Colleagues PC
Rexrode Chirigos Architects
Right of Way
Right2Bike
Seemore Meats & Veggies
Street Vendor Project (Urban Justice Center)
StreetsPac
Sunrise NYC
The Trust for Public Land
Think Zero
TransitCenter
Tri-State Transportation Campaign
WE Bike NYC
WXY Studio
510 W 134 Tenant Association
6th Street Community Coalition
CHEKPEDS
Financial District Neighborhood Association
Hell's Kitchen Neighborhood Association
Loisaida United Neighborhood Gardens
Out Cycling Inc.
West 134th St Block Association
West 22nd Street Open Street
W 103rd St Open Streets Community Coalition
Birgit Nagele Reflexology/Yoga
Brompton Junction NYC
East Village Independent Merchants Association
East Village Vintage Collective
East Village Wellness Circle
Exit9 Gift Emporium
Flower Power
Harlem Community Development Corporation
Hudson Clearwater
La Chula - Harlem
Park Ave Block Association
Senior Advocacy Leadership Team (SALT)
Sixth Street Community Center
West 45/46th St Block Association
West 111th Street Block Association
Safe Roads Alliance
17 to the 6th Media
Bike Houston
Globe Covell Associates
HabitatMap
Institute for Transportation and Development Policy (ITDP)
League of American Bicyclists
Rumble Lights
Street Plans
Veldhoen + Company
34th Avenue Open Streets Community Coalition in Jackson Heights Queens
39th Avenue Open Streets Community Coalition in Sunnyside/Woodside Queens
31st Avenue Open Streets Community Coalition in Astoria Queens
89th Street Tenants Unidos Association
Ciclistas Latinoamericanos de Nueva York
Court Square Civic
COVID Care Neighbor Network
Greater Flushing Chamber of Commerce
Hunter Point Parks Conservancy
Make Queens Safer
OUT Rockaway
Queens Bike Initative
South Asian Fund For Education, Scholarship and Training ( SAFEST)
Together We Can
Jackson Heights Beautification Group
The Guardians of Flushing Bay, Inc.
Familias Unidas
Queens Neighborhoods United
Staten Island Therapeutic Gardens
Bronx Health Reach
Community Service Society
South Bronx Mutual Aid
Historic Tappen Park Community Partnership
La Colmena
MakerSpace
O'Henry's Publick House
Pride Center of Staten Island
Roots of Peace Community Garden
Search Party Studio
Serpentine Art and Nature Commons
Snug Harbor Cultural Center & Botanical Garden
Staten Island Partnership for Community Wellness
Staten Island Women Who March (SIWMM)
Youth BUILD
Loisaida Open Streets Community Coalition (LOSCC)
@lissettecalv
Cafe Select
FRESH Med NYC
Henry Rinehart Media
La Mercerie Restaurant at The Guild
Lime
marlow collective
Help Collect Open Streets Data
INTRO TEXT TK

[INSERT FORM HERE]
Your Open Streets
New York City has begun to implement Open Streets. This is just the beginning, but we hope to capture human stories of how these streets feel to the people who use them. Have you visited one of New York City's initial Open Streets? What did you see, hear, and feel? What are your hopes for how Open Streets can improve your community, during COVID-19 and beyond?
You can also post stories and photos on social media. Use #OpenStreets.
Media
Read media coverage of the #OpenStreet campaign, and efforts in other cities to open street for people during COVID-19. If you are a member of the media who would like to write about the campaign, we can connect you to experts and activists on the ground. Contact Cory Epstein at (973) 902-1121 or press@transalt.org.

Avenue B Open Street Group to NYPD: 'We Got This'
Frustrated with inconsistent enforcement of open streets, East Village residents formed the Loisaida Open Streets Community Coalition, which formally applied through the Department of Transportation to take over from the Ninth Precinct.
Streetsblog NYC

Should city open more Staten Island streets to pedestrians?
Community leaders says that additional open street space is "vital to Staten Island's economic, social, and physical recovery."
SILive

New York City Is Latest To Close Some Streets To Cars, Making More Space For People
The move to limit car access on the city's streets comes amid pressure from citizens and activists
NPR

De Blasio Announces Open Streets, Primarily Centered On Parks, Starts Saturday, 5/2
City officials have revealed the first batch of car-free streets
Gothamist

New York City Plan to Close Streets Is Weak as Hell
What about the people who don't live near parks?
Gizmodo

When cars make social distancing impossible
How NYC streets should adapt to a coronavirus reality
Daily News

N.Y.'s Changed Streets: In One Spot, Traffic Speeds Are Up 288%
Faster buses. Plentiful parking. Cleaner air. A shift in habits offers a glimpse of what the city could be like without so much congestion.
The New York Times

The Magic of Empty Streets
Social distancing gives us a rare chance to fix cities.
The New York Times

Why Streets Should Be Closed to Cars During COVID-19
Open Streets are essential to public health and safety during the pandemic
Transportation Alternatives on Medium

De Blasio Could Save Lives by Closing New York City's Streets. Why Won't He?
We need to practice social distancing. The city's parks and sidewalks are crowded. The streets are empty. You'd think this would be an easy one.
Vice

New Yorkers need space for social distancing. Let's open streets to pedestrians.
Banning cars from some streets would encourage social distancing and help keep New York City safe.
Curbed NY
Open Streets in Other Cities
Read our piece on what New York City can learn from Open Streets in other cities.

Since the start of COVID-19, cities around the world have recognized the need to widen sidewalks and open streets for people. While New York City is at the beginning of its Open Streets implementation, many other cities have already set their programs in motion. An incomplete list:

Aotearoa, New Zealand
Austin, Texas, USA
Bogotá, Colombia
Boston, Massachusetts, USA
Brookline, Massachusetts, USA
Budapest, Hungary
Burlington, Vermont, USA
Calgary, Canada
Cambridge, Massachusetts, USA
Cleveland, Ohio, USA
Cologne, Germany
Denver, Colorado, USA
Des Moines, Iowa, USA
Duluth, Minnesota, USA
Edmonton, Canada
Hackney, United Kingdom
London, United Kingdom
Louisville, Kentucky, USA
Manchester, United Kingdom
Mexico City, Mexico
Minneapolis, Minnesota, USA
Montgomery County, Maryland, USA
Montreal, Canada
Oakland, California, USA
Palo Alto, California, USA
Philadelphia, Pennsylvania, USA
Pittsburgh, Pennsylvania, USA
Portland, Oregon, USA
Quincy, Massachusetts, USA
San Francisco, California, USA
St. Louis, Missouri, USA
St. Paul, Minnesota, USA
Stuttgart, Germany
Sydney, Australia
Vancouver, Canada
Victoria, Canada
Vienna, Austria
Winnipeg, Canada